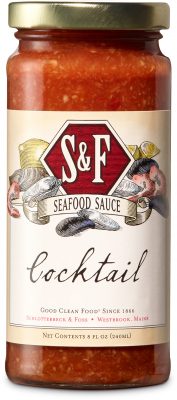 Cocktail Sauce
Tomatoes, zesty horseradish, spices, and sea salt are mixed together to create a favorite seafood condiment.
A culinary classic, cocktail sauce is perfect for cold shrimp or lobster, fried shrimp, and raw shellfish.
Horseradish (Horseradish, Vinegar, Salt), Concentrated Tomatoes, Water, Cane Sugar, Distilled Vinegar, Sea Salt, Garlic (dry), Onion (dry), Spice Extract, Xanthan Gum.