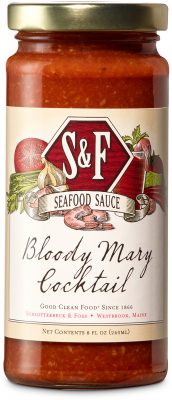 Bloody Mary Cocktail Sauce
A spirited seafood sauce with a kick of horseradish, celery, vodka, and a twist of citrus. The cure for the common cocktail.
For the perfect batch of Bloody Mary cocktails: Add 3 cups of tomato juice and one jar of cocktail sauce to a pitcher. Mix well. Fill four tall glasses with ice and add one shot of vodka or gin to each glass. Top with bloody Mary mixture and stir well. Garnish as desired (celery, cocktail shrimp, olives, lemon wedges).
Horseradish (Horseradish, Vinegar, Salt), Concentrated Tomatoes, Distilled Vinegar, Cane Sugar, Sea Salt, Worcestershire Sauce (Distilled Vinegar, Molasses, Sea Salt, Sugar, Spices, Tamarind), Vodka, Spices, Cayenne Pepper Sauce (Aged Red Cayenne Peppers, Distilled Vinegar, Salt, Garlic), Lemon Juice Concentrate, Garlic, Onion, Anchovy (Fish), Xanthan Gum, Natural Vitamin E Added to Protect Flavor.