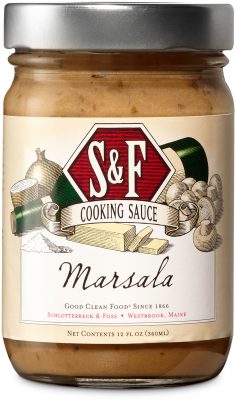 Marsala Cooking Sauce
An Italian classic. Mushrooms sautéed in extra virgin olive oil with Marsala wine, chicken stock, and balsamic vinegar.
Simmer one jar sauce with one pound browned and cubed pork, veal, or chicken. Serve with pasta, rice, or polenta garnished with parmesan cheese. This cooking sauce can also be used as a soup starter with the addition of extra broth, canned beans, and chopped baby spinach.
Mushrooms, Marsala Wine (sulfites), Chicken Broth (Water, Chicken Fat, Chicken Broth, Spice Extract), Sherry Wine (sulfites), Onions, Butter (milk; salted), Corn Starch, Balsamic Vinegar, Garlic, Extra Virgin Olive Oil, Molasses, Spice, Soybean Lecithin, Natural Vitamin E Added to Protect Flavor.