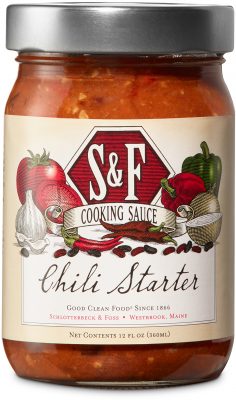 Chili Starter
Traditional chili spices meld with garden vegetables in this quick and easy chili starter, delivering a lively blend of chili peppers (cayenne, ancho and chipotle), tomatoes, three kinds of beans, bell peppers, onions, whole roasted garlic, and cumin.
Simply add one pound of browned meat, a cup of beer or broth, and simmer. Serve with corn bread or tortilla chips. This cooking sauce can also be used as a soup starter with the addition of extra broth, canned tomatoes, and corn. Ideal for slow cooking.
Beans (Black, Red Kidney, White), Tomatoes, Red & Green Bell Peppers, Onions, Cayenne Pepper Sauce (Aged Cayenne Peppers, Distilled Vinegar, Salt, Garlic), Garlic, Spices, Roasted Garlic, Corn Starch, Ancho & Chipotle Chili Powders, Sea Salt, Ascorbic Acid (Vitamin C), Natural Flavor, Guar Gum.