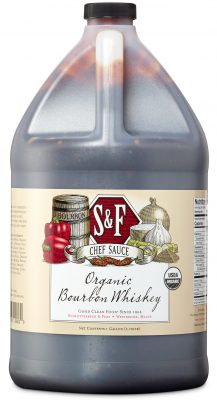 Organic Bourbon Whiskey
The smoky, malty complexity of bourbon is paired with just the right hint of spice.
Marinate or glaze with flap beef, flank steak, hanger steak, skirt steak, sirloin strips, flat iron steaks, top sirloin roast, chicken breasts, chicken thighs, chicken tenderloins, pork tenderloin.
Organic Tamari (Water, Organic Soybeans, Salt,), Organic Cane Sugar, Water, Organic Garlic, Organic Corn Starch, Organic Molasses, Organic Spices, Organic Onion, Organic Red Bell Peppers, Organic Bourbon, Organic Chipotle Pepper Powder, Citric Acid, Xanthan Gum.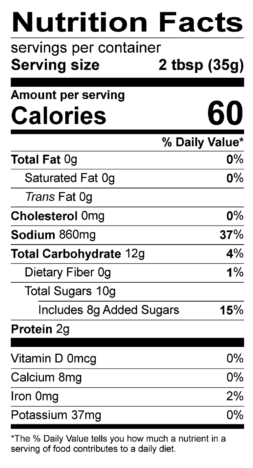 Per 100 grams (calculated from database figures)
Calories (Atwater Conversion Factors)
155
Protein
5.5 g
Carbohydrates
32.2 g
Dietary Fiber
0.8 g
Sugars – total
25.7 g
Added Sugar
22.7 g
Fat – total
0.1 g
Saturated Fat
0
Cholesterol
0
Trans Fatty Acids
0
Vitamin A
190.2 IU
Vitamin C
2.5 mg
Vitamin D
0
Vitamin K
2.0 mcg
Calcium
22.8 mg
Iron
0.6 mg
Sodium
2295.6 mg
Potassium
96.7 mg