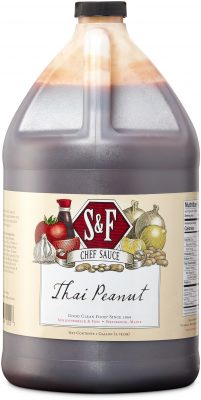 Thai Peanut
Roasted peanuts, garlic, tomatoes and molasses meet the heat of the east in this zesty stir-fry sauce.
Marinate or glaze with chicken breasts, chicken thighs, chicken tenderloins, chicken wings, chicken stir-fry, chicken for pad thai, satay chicken strips, or skewers.
Tomato Puree (Water, Tomato Paste), Cane Sugar, Distilled Vinegar, Tamari (Water, Soybeans, Salt, Sugar), Roasted Peanut Oil, Molasses, Garlic, Sunflower Lecithin, Spices, Xanthan Gum, Sea Salt, Garlic Extract, Natural Vitamin E Added to Protect Flavor.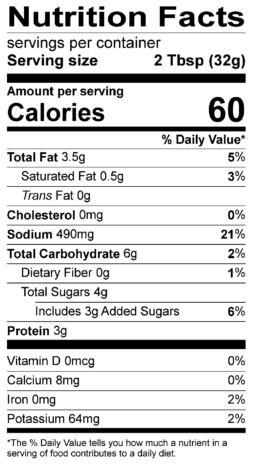 Per 100 grams (calculated from database figures)
Calories (Atwater Conversion Factors)
201
Protein
8.6 g
Carbohydrates
18.4 g
Dietary Fiber
0.6 g
Sugars – total
11.6 g
Added Sugar
9.5 g
Fat – total
11.4 g
Saturated Fat
1.6 g
Cholesterol
0
Trans Fatty Acids
0
Vitamin A
259.6 IU
Vitamin C
3.8 mg
Vitamin D
0
Vitamin K
0.4 mcg
Calcium
24.3 mg
Iron
1.0 mg
Sodium
1544.6 mg
Potassium
200.6 mg