Meyer Lemon
Bright, sunny Meyer lemons make the perfect complement to any chicken or vegetable dish in your recipe repertoire.
This perfect pantry sauce is an excellent match for seafood, chicken, and green vegetables such as asparagus and broccoli.
Water, Canola or Soybean Oil, Cane Sugar, Apple Cider Vinegar, Dijon Mustard (Water, Mustard Seed, Vinegar, Salt,Turmeric, Spice), Rice Wine Vinegar, Lemon Juice Concentrate, Corn Starch, Meyer Lemon Juice, Spices, Sea Salt, Garlic, Onion, Lemon Peel, Natural Flavor, Xanthan Gum, Turmeric, Orange Oil, Natural Vitamin E Added to Protect Flavor.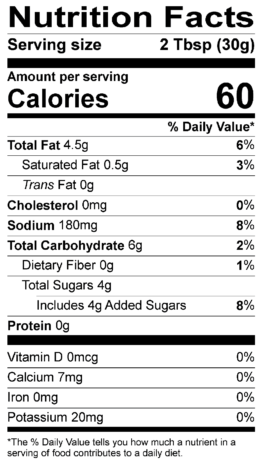 Per 100 grams (calculated from database figures)
Calories (Atwater Conversion Factors)
213
Protein
0.7 g
Carbohydrates
19.2 g
Dietary Fiber
1.2 g
Sugars – total
13.8 g
Fat – total
15.5 g
Saturated Fat
2.3 g
Cholesterol
0
Trans Fatty Acids
0.2 g
Vitamin A
349.8 IU
Vitamin C
11.0 mg
Vitamin D
0
Vitamin K
1.3 mcg
Calcium
22.8 mg
Iron
0.4 mg
Sodium
603.9 mg
Potassium
65.8 mg