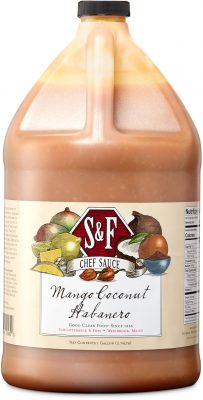 Mango Coconut Habanero
With bright, bold flavors of summer, fiery habanero is tempered with the tropical sweetness of fresh mango, oranges, coconut, cider vinegar, and just the right amount of sea salt.
Marinate or glaze with chicken breasts, chicken thighs, chicken tenderloins, pork chops, pork tenderloin, pork butt (pulled pork), tilapia, mahi mahi, red snapper, salmon, shrimp, scallops.
Mangoes, Cane Sugar, Oranges & Orange Juice Concentrate, Water, Apple Cider Vinegar, Coconut, Corn Starch, Lemon Juice Concentrate, Virgin Coconut Oil, Sea Salt, Paprika, Spices, Habanero Pepper Powder.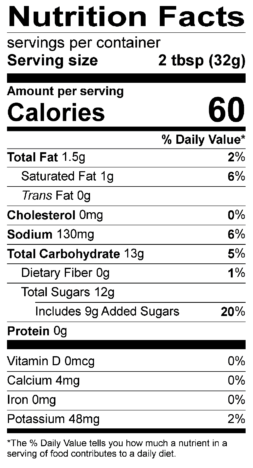 Per 100 grams (calculated from database figures)
Calories (Atwater Conversion Factors)
199
Protein
0.8 g
Carbohydrates
41.6 g
Dietary Fiber
1.5 g
Sugars – total
37.8 g
Added Sugar
27.5 g
Fat – total
4.4 g
Saturated Fat
3.9 g
Cholesterol
0
Trans Fatty Acids
0
Vitamin A
1761.3 IU
Vitamin C
23.7 mg
Vitamin D
0
Vitamin K
0.2 mcg
Calcium
11.7 mg
Iron
0.4 mg
Potassium
149.1 mg
Sodium
398.6 mg