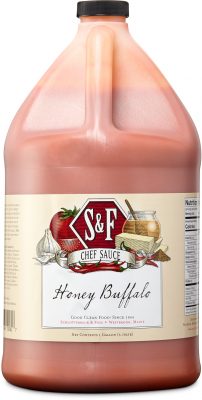 Honey Buffalo
Cayenne pepper sauce delivers classic heat, balanced with a with a hint of sweet honey.
Marinate or glaze with chicken breasts, chicken thighs, chicken tenderloins, chicken wings, boneless country style pork ribs, pork butt (pulled pork), shrimp, salmon.

Pepper Sauce (Cayenne Peppers, Distilled Vinegar, Water, Salt, Garlic), Tomato Puree (Water, Tomato Paste), Canola or Soybean Oil, Apple Cider Vinegar, Honey, Butter (milk; salted), Tamari (Water, Soybeans, Salt), Mustard Bran, Worcestershire Sauce (Distilled Vinegar, Molasses, Cane Sugar, Sea Salt, Tamarind, Spices), Garlic, Natural Flavor, Sunflower Lecithin, Xanthan Gum.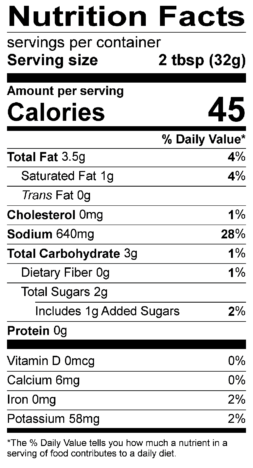 Per 100 grams (calculated from database figures)
Calories - Atwater Conversion Factors
140
Protein
1.3 g
Carbohydrates
9.7 g
Dietary Fiber
1.1 g
Sugars – total
6.4 g
Added Sugar
4.1 g
Fat – total
10.9 g
Saturated Fat
2.5 g
Trans Fatty Acids
0.2 g
Cholesterol
5.4 mg
Vitamin A
1400.8 IU
Vitamin C
4.3 mg
Vitamin D
0
Vitamin K
0.2 mg
Calcium
17.2 mg
Iron
1.5 mg
Potassium
180.4 mg
Sodium
2004.4 mg