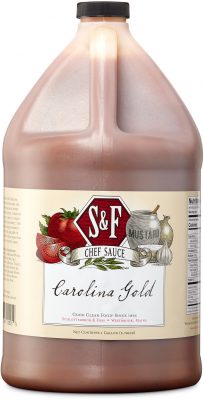 Carolina Gold BBQ
Based on South Carolina tradition, sweet molasses and yellow mustard are blended together with onions, tomatoes, and sea salt to create a unique BBQ sauce.
Marinate or glaze with flap beef, flank steak, hanger steak, skirt steak, sirloin strips, chicken breasts, chicken thighs, chicken wings, all pork proteins, pork butt (for pulled pork), salmon.

Cane Sugar, Yellow Mustard (Water, Vinegar, Mustard Seed, Salt, Turmeric), Distilled Vinegar, Tomato Puree (Water, Tomato Paste), Sea Salt, Corn Starch, Molasses, Spices, Garlic, Onion, Natural Smoke Flavor, Xanthan Gum.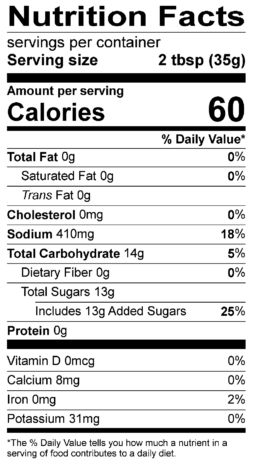 Per 100 grams (calculated from database figures)
Calories (Atwater Conversion Factors)
173
Protein
1.3 g
Carbohydrates
40.9 g
Dietary Fiber
1.4 g
Sugars – total
37.5 g
Added Sugars
36.5 g
Fat – total
0.1 g
Saturated Fat
0.1 g
Trans Fatty Acids
0
Cholesterol
0
Vitamin A
149.3 IU
Vitamin C
1.6 mg
Vitamin D
0
Vitamin K
0.8 mg
Calcium
24.5 mg
Iron
0.8 mg
Sodium
1170.5 mg
Potassium
92.5 mg