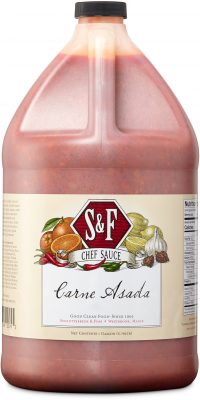 Carne Asada
Spicy ancho and jalapeño chilies are mixed into a smoky, picante sauce of orange juice, onions, garlic, lime juice, paprika, cumin, and sea salt.
Marinate or glaze with flap beef, flank steak, hanger steak, skirt steak, fajita beef, chicken breasts, chicken thighs, chicken wings, fajita chicken, fajita pork, pork tenderloin, or shrimp.
Water, Cayenne Pepper Sauce (Aged Cayenne Peppers, Distilled Vinegar, Salt, Garlic), Canola or Soybean Oil, Distilled Vinegar, Garlic, Tamari (Water, Soybeans, Salt, Sugar), Cane Sugar, Spices, Red Jalapeno Puree (Red Jalapenos, Salt, Acetic Acid), Sea Salt, Orange Juice Concentrate, Lime Juice Concentrate, Paprika and Paprika Extract, Onion, Ancho Chili Powder, Xanthan Gum, Citric Acid, Natural Vitamin E Added to Protect Flavor.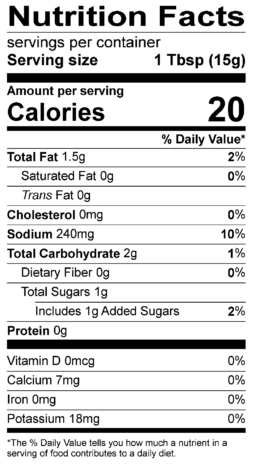 Per 100 grams (calculated from database figures)
Calories (Atwater Conversion Factors)
145
Protein
1.9 g
Carbohydrates
12.2 g
Dietary Fiber
2.3 g
Sugars – total
5.3 g
Fat – total
9.9 g
Saturated Fat
1.4 g
Trans Fatty Acids
0.1 g
Cholesterol
0
Vitamin A
675.3 IU
Vitamin C
10.9 mg
Vitamin D
0
Vitamin K
3.4 mcg
Calcium
46.0 mg
Iron
1.2 mg
Sodium
1588.5 mg
Potassium
123.3 mg