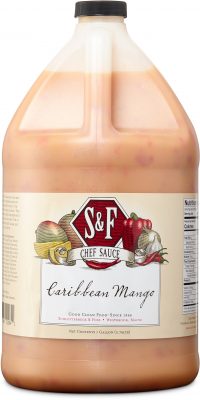 Caribbean Mango
Made with juicy mangoes, red bell peppers, dijon mustard and just enough cayenne to give it the spicy zest of tropical islands.
Marinate or glaze with chicken breasts, chicken thighs, chicken wings, pork chops, pork tenderloin, pork loin, tilapia, salmon, mahi-mahi, red snapper, and shrimp.
Mango, Water, Cane Sugar, Sweet Red Peppers, Apple Cider Vinegar, Onions, Dijon Mustard (Water, Mustard Seed, Vinegar, Salt, Turmeric, Spices), Pepper Sauce (Cayenne Peppers, Vinegar, Salt, Garlic), Canola or Soybean Oil, Xanthan Gum, Spice, Ascorbic Acid (Vitamin C), Natural Vitamin E Added to Protect Flavor.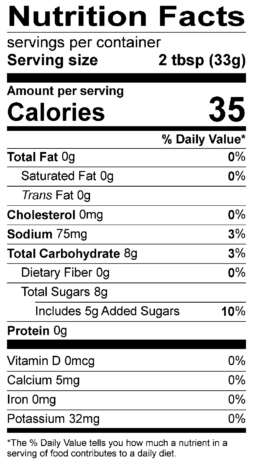 Per 100 grams (calculated from database figures)
Calories (Atwater Conversion Factors)
111
Protein
0.8 g
Carbohydrates
25.3 g
Dietary Fiber
1.1 g
Sugars – total
23.1 g
Added Sugar
16.4 g
Fat – total
1.4 g
Saturated Fat
0.2 g
Trans Fatty Acids
0
Cholesterol
0
Vitamin A
1563.5 IU
Vitamin C
216.0 mg
Vitamin D
0
Vitamin K
0.7 mcg
Calcium
15.7 mg
Iron
0.3 mg
Potassium
96.5 mg
Sodium
230.0 mg