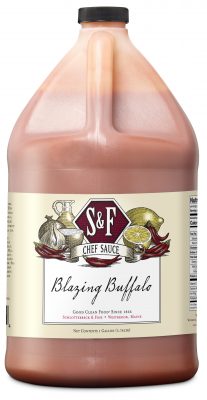 Blazing Buffalo
Peppers and spices create a spicy blaze with this flame worthy hot sauce.
Marinate or glaze with chicken breasts, chicken thighs, chicken tenderloins, chicken wings, boneless country style pork ribs, pork butt (pulled pork), shrimp, salmon.
Cayenne Pepper Sauce (Aged Cayenne Peppers, Vinegar, Salt, Garlic), Canola or Soybean Oil, Water, Spices, Paprika Extract, Worcestershire Sauce (Distilled Vinegar, Molasses, Cane Sugar, Sea Salt, Tamarind, Spices), Corn Starch, Garlic, Onion, Lemon Juice Concentrate, Xanthan Gum, Natural Flavor.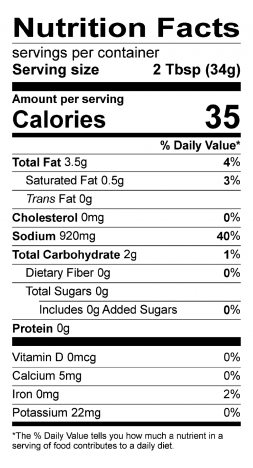 Per 100 grams (calculated from database figures)
Calories (Atwater Conversion Factors)
110
Protein
1.0 g
Carbohydrates
5.1 g
Dietary Fiber
2.0 g
Sugars – total
1.2 g
Added Sugars
0
Fat – total
9.8 g
Saturated Fat
1.5 g
Cholesterol
0
Trans Fatty Acids
0.2 g
Vitamin A
902.4 IU
Vitamin C
9.5 mg
Vitamin D
0
Vitamin K
0.9 mcg
Calcium
15.9 mg
Iron
0.5 mg
Sodium
2700.5 mg
Potassium
65.4 mg