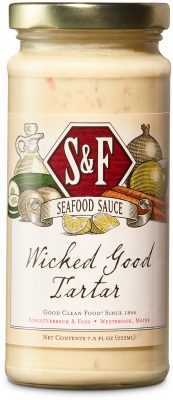 Wicked Good Tartar
With the true taste of coastal New England, a creamy blend of garden-fresh vegetables, tangy lemon, and white wine make this sauce wicked good.
Serve with breaded fish or roasted salmon. Use as a unique burger topping, a sandwich spread for roasted turkey, or as a dipping sauce for chicken fingers and french fries.
Canola or Soybean Oil, Cucumbers, Distilled Vinegar, Cane Sugar, Egg Yolk, White Wine, Carrots, Onion, Spices, Sea Salt, Natural Flavor, Lemon Juice Concentrate, Xanthan Gum, Natural Vitamin E Added to Protect Flavor.