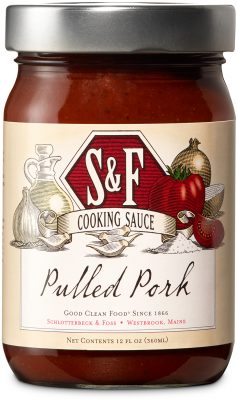 Pulled Pork Cooking Sauce
Bold and smoky southern BBQ. Tomatoes, garlic, and onions blended with cider vinegar and molasses give our Pulled Pork Cooking Sauce its signature flair.
Simmer one jar sauce with one pound cubed pork, chicken, or beef. Serve with cornbread, coleslaw, and pickles. This cooking sauce can also be used as base for southern-style BBQ baked beans with the addition of canned beans and cooked bacon. Ideal for slow cooking.
Tomato Puree (Water, Tomato Paste), Cane Sugar, Apple Cider Vinegar, Worcestershire Sauce (Distilled Vinegar, Molasses, Sea Salt, Sugar, Spices, Tamarind), Tamari (Water, Soybeans, Salt, Sugar), Corn Starch, Sea Salt, Spices, Canola or Soybean Oil, Natural Smoke Flavor, Garlic, Onion, Xanthan Gum, Citric Acid, Soybean Lecithin, Natural Vitamin E Added to Protect Flavor.