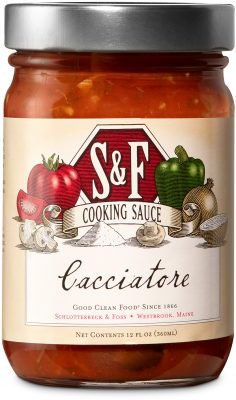 Cacciatore Cooking Sauce
Italian-American "hunter-style" stew base with bell peppers, onions, mushrooms, and garlic, sautéed in olive oil and made into a sauce with tomatoes, basil and wine.
Simmer one jar of sauce with one pound of browned chicken thighs or Italian sausage and serve over pasta or polenta. This cooking sauce can also be used as a soup starter with the addition of extra broth, vegetables, and canned beans. Ideal for slow cooking.
Tomatoes, Red and Green Bell Peppers, Tomato Puree (Water, Tomato Paste), Onions Mushrooms, Garlic, Sherry Wine (sulfites), Cane Sugar, Sea Salt, Corn Starch, Natural Flavor, Extra Virgin Olive Oil, Basil, Spices, Ascorbic Acid (Vitamin C).