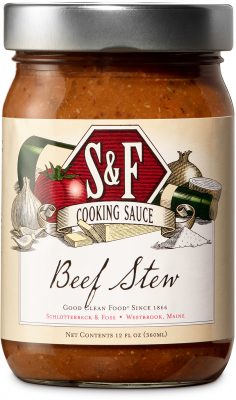 Beef Stew Cooking Sauce
Classic comfort food. This cooking sauce is the perfect blend of savory onions and tomatoes sautéed in butter with garlic, Guinness Irish Stout, and red wine.
Simmer one jar sauce with one pound tender beef and lamb and thickly sliced carrots. Serve with mashed or boiled potatoes. This cooking sauce can also be used as a soup starter with the addition of extra broth and vegetables. Ideal for slow cooking.
Chicken Broth (Water, Chicken Fat, Chicken Broth, Spice Extract), Onions, Beef Stock (Water, Beef Stock, Natural Flavor, Beef Fat, Salt, Garlic), Tomato Puree (Water, Tomato Paste), Garlic, Worcestershire Sauce (Distilled Vinegar, Molasses, Cane Sugar, Sea Salt, Tamarind, Spices), Guinness® Irish Stout, Red Wine (sulfites), Brown Sugar, Corn Starch, Tamari (Water, Soybeans, Salt), Spices, Butter (salted; milk), Natural Vitamin E Added to Protect Flavor.