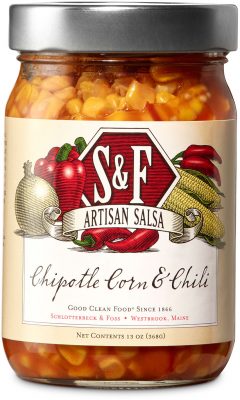 Chipotle Corn & Chili Salsa
Crunchy corn, sweet red peppers, and three types of chilies with just a dash of smoky spice give this fresh,tomato-free salsa its festive distinction.
Go traditional and use this salsa as a dip for tortilla chips. Think outside the box and transform your next Mexican meal by adding it to tacos or using it as an enchilada filling. Make a quick and easy salad by mixing it with cucumbers and canned beans.
Corn, Cane Sugar, Onions, Red Bell Peppers, Jalapeno Peppers, Lime Juice Concentrate, Distilled Vinegar, Spice, Sea Salt, Chipotle Pepper Powder, Guar Gum.