Winter Warmers – Two Quick and Easy Pasta Dinners

Here on the East Coast we have been enjoying a very mild winter, that is until recently. When the temperature dips, comfort foods, like chili or mac & cheese, seem to warm up everyone's body and improve everyone's moods. Simply, when it is 10 degrees outside, a lovely tomato salad does not hold as much appeal as it does on a balmy August night which brings us to saucy pasta…
Spaghetti Cacciatore with Sausage and Meatballs is a hearty pasta dinner with zesty peppers and onions alongside savory meatballs and sausage. Our S&F Cacciatore Cooking Sauce delivers the classic flavors of Italian hunter's style tomato sauce with a meal that comes together quickly because the sauce and the spaghetti cook at the same time leaving you time to set the table and pour some wine.
To streamline any pasta dinner, always get the pot of water going first. Once the water is boiling, add a generous tablespoon of kosher salt or sea salt. Add the pasta and stir well to prevent the noodles from sticking together. Before draining the pasta reserve some of the cooking water, in case you need to thin the sauce a bit. This reserved cooking water is also helpful if there is any leftover pasta that will be turned into gourmet brown bag lunches. There is no need to rinse cooked pasta, the only time it needs to be rinsed is if it is going to be used for a cold pasta salads.
Spaghetti Cacciatore with Sausage and Meatballs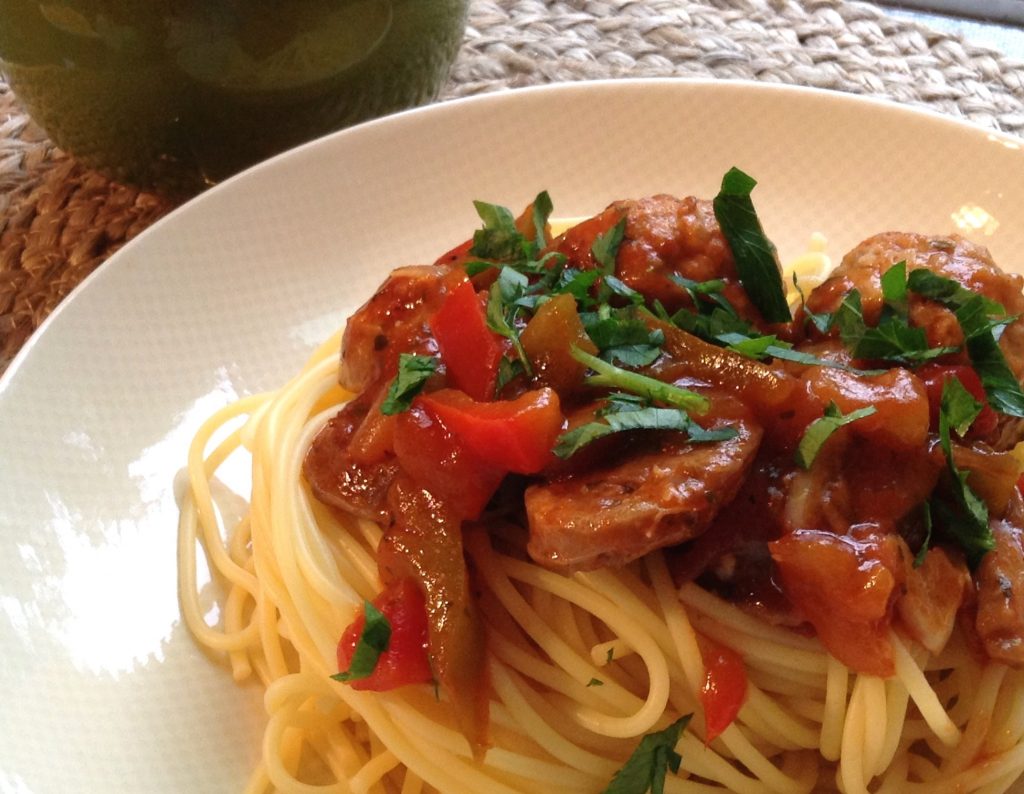 Spaghetti Cacciatore with Sausage and Meatballs
Recipe Type
:
Pork, Beef, Main Course
Cook time:
Total time:
Ingredients
1/2 lb. spaghetti
2 Tbsp. olive oil
1/2 lb. Italian sausage, cut into 1/2-inch thick slices
1 lb. pre-cooked meatballs (frozen and thawed or homemade)
1 (12 oz.) jar S&F Cacciatore Simmer Sauce
1/4 cup grated Parmesan cheese
Instructions
Put a large pot of salted water onto the stove over high heat. Bring to a boil. Add spaghetti and stir. Cook for about 9 minutes until al dente and drain.
While waiting on the spaghetti, add the oil to a large skillet over medium heat. When hot, add the sausage.
Cook and stir, until almost cooked through and browned, about 5 minutes. Add the meatballs and the S&F Cacciatore Simmer Sauce.
Cover and simmer slowly until the sausage is completely cooked through and the meatballs are hot.
Place the cooked spaghetti into a large serving bowl. Top with the meat and sauce. Garnish with Parmesan.
For next week's pasta dinner try Chicken and Sausage Cacciatore with Penne.