Valentine's Night In…

Warm candlelight, beautiful flowers and a bottle of bubbly…Instead of fighting the crowds on February 14th, consider a romantic dinner at home. Next to Mother's Day, Valentine's Day is one of the busiest nights of the year in any restaurant. Servers and chefs are often stretched to the limit which can make for a mediocre experience.  Break out a table cloth, fold some pretty napkins and set the table with your finest dishes. You can even dress up.
Start the meal with a Classic Shrimp Cocktail or some crostini. Consider some fantastic grilled strip loin steaks with our Sweet Bourbon Chef Sauce. And no matter what, do not forget dessert – fresh strawberries dipped in warm S&F Decadent Fudge Sauce or creamy vanilla ice cream topped with with S&F Bourbon Butterscotch Sauce. On Valentine's Day, the best seat in the house is at your dining room table.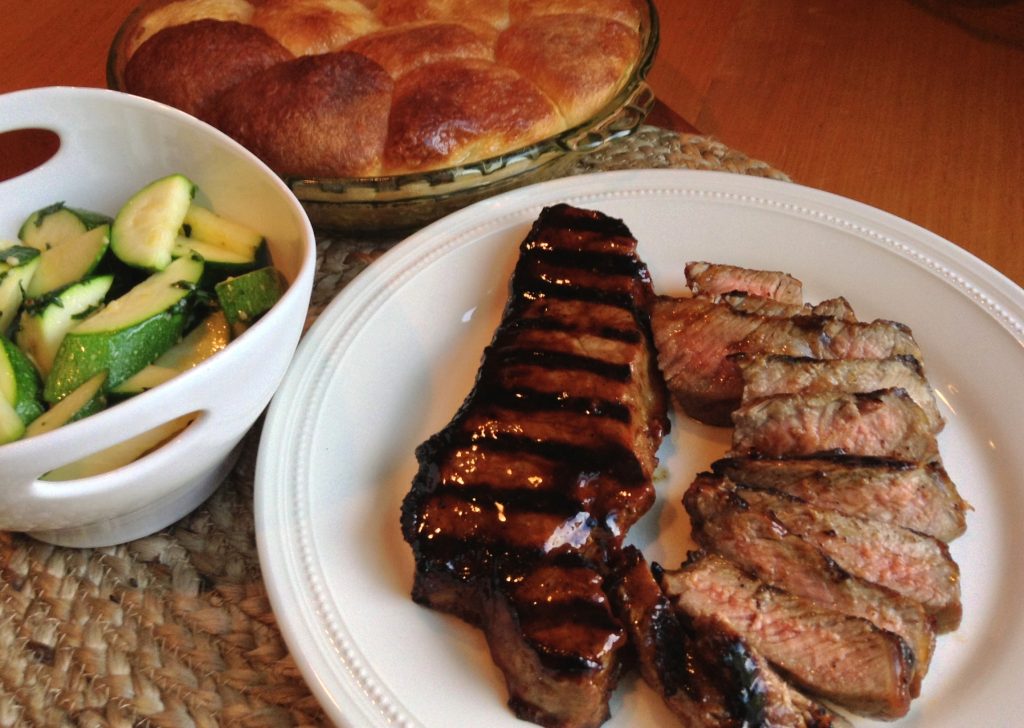 Restaurant Style Strip Steaks
Recipe Type
:
Main Course, Beef
Prep time:
Cook time:
Total time:
Ingredients
2 (1-inch thick) strip steaks (about 1 lb.)
2 tsp. olive oil
2 tsp. seasoning salt
1/2 tsp. paprika
1/4 cup S & F Sweet Bourbon Sauce
Instructions
Preheat grill or the broiler.
Rub the oil, seasoning salt and paprika all over the steaks.
Place the steaks onto the grill or under the broiler and cook until well-marked, about 6 minutes. Flip and brush generously with S & F Sweet Bourbon Sauce. Continue to cook to desired doneness, 4-5 minutes for medium. Transfer the steak to a plate and let it rest for 5 minutes. Cut the steak in thin slices, against the grain.
This recipe can also be used with steak tips or flank steak.