'Tis the Season for Crostini

The holiday season is full of cocktail parties. Whether you are hosting or contributing to a pot luck, crostini is always a win-win. Crostini is the Italian word for little toasts. When it comes to crostini, the possibilities are endless. The toppings can be a simple olive cream cheese topped with crispy bacon or more involved with a thin layer of pesto with fresh mozzarella and quartered grape tomatoes.
Our fool proof method for making crostini: Pre-heat the oven to 400°F. Cut a baguette into 1/2-inch thick slices. Transfer the slices to a baking sheet. Generously brush the bread with oil or spray the tops with cooking spray, turn the slices and repeat. Bake for 8-10 minutes until crispy and lightly golden.  Transfer the slices to a cooling rack. This step can be done one day ahead of time, just keep the cooled crostini in an air-tight container.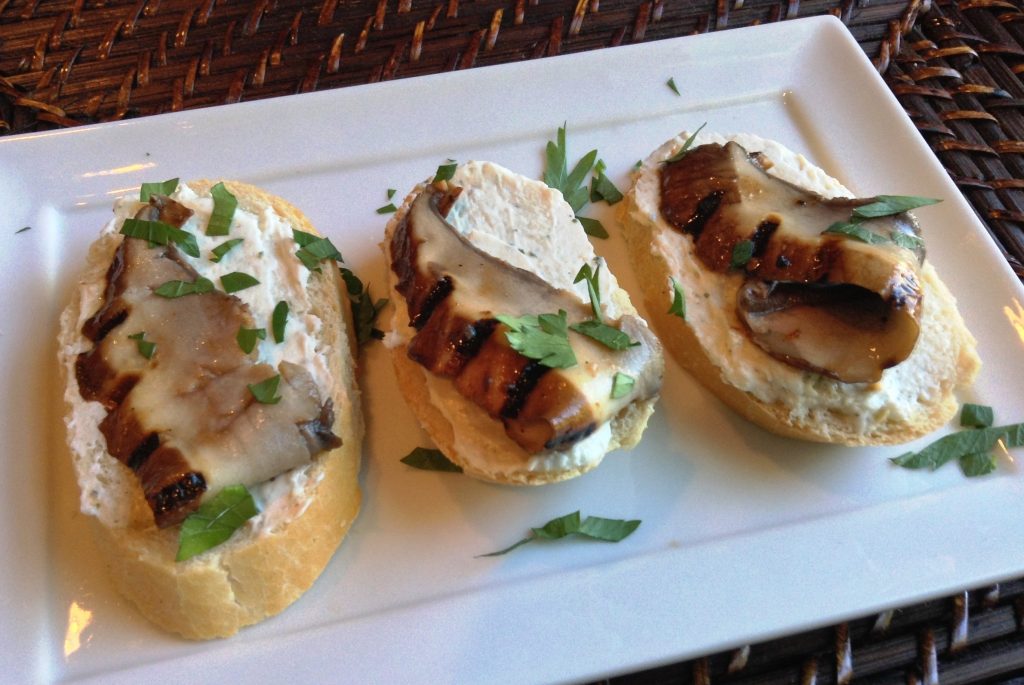 Grilled Portabella Mushroom Crostini
Recipe Type
:
Vegetarian, Appetizer
Prep time:
Total time:
Ingredients
2 Tbsp. S & F Peppercorn Steak Sauce
1 Tbsp. olive oil
1 Tbsp. lemon juice
1/2 tsp. minced garlic
2 large portabella mushrooms, stems removed
cooking spray
1/8 tsp. kosher salt
1 standard bakery baguette
1/3 cup Boursin Cheese
1 Tbsp. flat leaf parsley or thinly sliced chives
ground black pepper
Instructions
Preheat the grill.
Add the S & F Peppercorn Steak Sauce, olive oil, lemon juice and garlic to a small mixing bowl. Whisk until evenly blended.
Lay the mushrooms, gill side up, on a large plate. Brush the sauce onto the mushrooms, coating both sides.
Grease the grill with cooking spray. Place the mushrooms on the grill, top side down and cook until well-marked, about 4 minutes. Turn and grill until tender, about 4 minutes. Transfer the mushrooms to a plate to cool. Season the mushrooms with salt. They will release more liquid as they cool.
Slice the bread on a diagonal into 1/2-inch thick slices. Spread a thin layer of Boursin onto each slice. You may have a few extra slices of bread.
When the mushrooms are cool enough to touch, slice them into very thin strips at a slight angle to create wide, but thin slices.
Assemble the crostini: Place a slice of mushroom onto each bread slice, sprinkle with parsley and a bit of freshly ground black pepper.
These mushroom crostini can be served as an appetizer or a vegetarian entrée with a green salad.
Two more crostini recipes:
Buttered Pecan, Honeyed Fig and Goat Cheese Crostini
Smoked Salmon Crostini