Spicy Mango Coconut Grilled Vegetable Platter

Smoky, saucy grilled vegetables are one of the joys of summer eating. While vegetables require a bit of slicing and chopping, the end result is always worth the effort. If you happen to have any vegetarian friends joining you at the table, they will appreciate the meatless bounty you have prepared.
Grilled vegetables can be served hot or at room temperature. They can also be grilled ahead of time and refrigerated to be served cold. Any leftover grilled vegetables can be used as a salad or a pizza topping. Grilled vegetables can also be used in pasta salads or as sandwich fillings, like a grilled pepper and eggplant panini with mozzarella cheese.
This grilled vegetable platter is seasoned with our S&F Mango Coconut Habanero Chef Sauce, a piquant, tropical sauce made with mangoes, oranges and coconut. These vegetables would be excellent served over rice with any kind of grilled meat or seafood like jerk chicken or salmon glazed with the S&F Coconut Habanero Chef Sauce.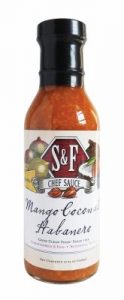 Spicy Mango Coconut Grilled Vegetable Platter
Prep time:
Cook time:
Total time:
Ingredients
1 medium eggplant, cut into 1/2-inch thick rounds
2 medium zucchini, cut into 1/2-inch thick rounds, on the diagonal
1 red bell pepper, seeded and cut into 8 wedges
2 ears of corn cut into, 1-inch rounds
1 beef steak tomato, cut into 1/2-thick slices
2 portobello mushrooms
1/3 cup olive oil
1 tsp. kosher salt, more to taste
cooking spray
1 cup S&F Mango Coconut Habanero Chef Sauce
2 Tbsp. fresh cilantro, coarsely chopped (optional)
1/3 cup crumbled feta cheese (optional)
Instructions
Heat grill to high. Pull out two baking sheets to hold the cut vegetables.
While grill is heating, prep the vegetables. To prep the mushrooms, snap off stem and use a spoon to scrape out the dark gills. Brush both sides of each all the prepped vegetables with olive oil and season with salt. Use the baking sheets to hold all the vegetables and ease the cooking.
Generously grease the grill with cooking spray. Place the onions, eggplant, zucchini, peppers and mushrooms onto the grill. Cook for 6-8 minutes per side until well-marked and turn. Continue to grill until tender, about 5-8 minutes.
At this point, add the tomatoes and corn to the grill, cook for 3 minutes on each side. Tomatoes and corn cook quickly. The onions, mushrooms and pepper will take a bit longer than the zucchini and eggplant.
Before transferring the vegetables to a platter, generously brush the top of each vegetable with S&F Mango Coconut Habanero Chef Sauce.
If using, garnish the platter with cilantro and feta.
If you find that you are grilling vegetables on a regular basis, you might consider purchasing a vegetable basket. This grill top accessory makes it easy to grill smaller vegetables without loosing them through the grates of the grill. For example, if you were grilling sausages and wanted peppers and onions as a topping, a vegetable basket makes that super easy to do. You can also use it to grill Brussels sprouts and small potatoes.
Vegetable Grilling Tips

Make sure the grill is very hot before grilling.
Clean the grill with a grill brush.
Grease the grill.
When grilling large mushrooms like portabellos, remove the stem and scrape the dark gills off before grilling.
To grill smaller mushrooms or sliced onions, use a vegetable basket.
When slicing vegetables for grilling, they should be at least 1/2-inch thick. Eggplant and cauliflower can be sliced more thickly, lengthwise and grilled like a steak.
If possible, only flip the vegetables once or twice, let them get good grill marks before flipping.
Add glazes and/or cooking sauces at the end of cooking to avoid burning.
You can marinate cut vegetables in balsamic dressing, Greek dressing or Italian dressing for up to 6 hours. Drain well to avoid flare ups on the grill.
Use a baking sheet or a platter to keep prep/grilling organized. Some vegetables require longer cooking like onions, mushrooms and peppers while tomatoes and asparagus cook very quickly.
A good set of grilling tongs (at least 14-inches long) are a very helpful tool for successful grilling. Take a cue from restaurant cooks everywhere, use the right tool for the job.