Slow Cooker Favorites: Cranberry Pulled Pork

If any recipe was suited for slow cooking, it is pulled pork. Please join us in celebrating National Slow Cooking month with this spin on traditional pulled pork that combines our tangy Pulled Pork Cooking Sauce with tart cranberries and just a touch of S&F Sweet Bourbon Mustard. Of course you can use this pulled pork in sandwiches but it can also be served on its own with sweet potato fries and a garden salad.
Slow Cooking Tips
Follow recipe instructions, layering ingredients as listed. Stir only if instructed.
The bottom and sides of the slow cooker are the hottest, place slow cooking ingredients like potatoes and carrots into the crock first. Meat often cooks faster than vegetables.
For even cooking, use similar sized ingredients, chopped vegetables should all be about the same size.
Quick cooking, lean proteins, like shrimp or boneless skinless chicken breasts, can be added at the end of cooking, stirred into the hot ingredients and cooked until done, usually less than 30 minutes additional cooking with a closed lid.
Season at the beginning and end of cooking for optimal flavor. Garnish with fresh herbs and citrus at the end of cooking to enhance the slow cooked dish.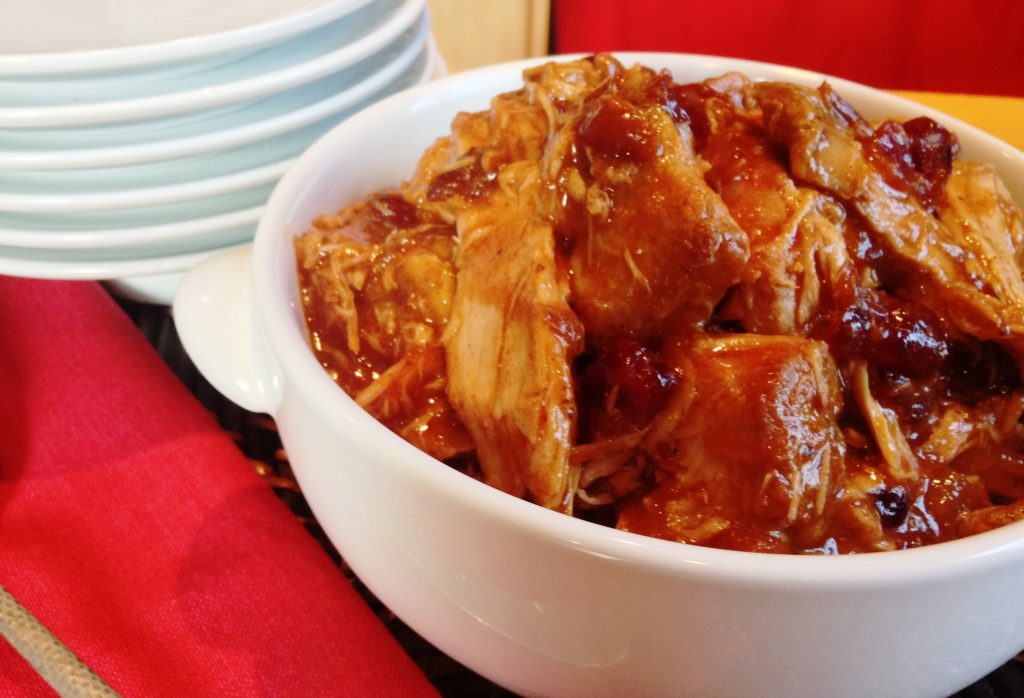 Cranberry Pulled Pork
Recipe Type
:
Pork, Main Course, Slow Cooker
Prep time:
Cook time:
Total time:
Ingredients
1/2 cup cranberry juice
1 onion, thinly sliced
1 cup dried cranberries, divided
1 Tbsp. seasoning salt
2 Tbsp. S&F Sweet Bourbon Mustard
4 lb. pork shoulder (also called Boston Butt)
1 (12-oz) jar S&F Pulled Pork Cooking Sauce
Instructions
Add the cranberry juice, onion and 1/2 cup cranberries to the slow cooker crock and stir to combine. Rub the seasoning salt and mustard all over the pork. Set the pork on top of the onions.
Cover and cook for 8 – 10 hours on LOW or 4 – 5 hours on HIGH. Transfer the pork to a platter. Strain the cooking juices reserving the solids. Use a fat separator to remove the fat from the cooking juices. Discard the fat.
Add the onions, 1 cup of the reserved cooking juices, remaining cranberries and the S&F Pulled Pork Cooking Sauce to the slow cooker crock. Stir to combine.
Shred the pork using two forks. Return the meat to the slow cooker crock. Discard any fat and bones. Gently toss the meat with the sauce. Serve on its own as a main course or in sandwiches. Pulled Pork can be completed ahead of time, refrigerated and re-heated for serving.