Ginger Teriyaki Pork and Shrimp Lettuce Wraps

For many years, S&F has worked with Hannaford Supermarkets to produce products for its Taste of Inspirations line. The products we create for the TOI line range from Carne Asada Sauce to Bacon Jam to Harissa Salsa to Blue Cheese Mustard. We were recently featured in the summer issue of Hannaford fresh.
Our R&D and culinary team together with Hannaford's creative team collaborate to develop and produce all-natural and unique products for the Taste of Inspirations line. One of our favorite products is the TOI Ginger Teriyaki Marinade. This gluten-free dinner can be on the table in under 30 minutes, faster and better than delivery.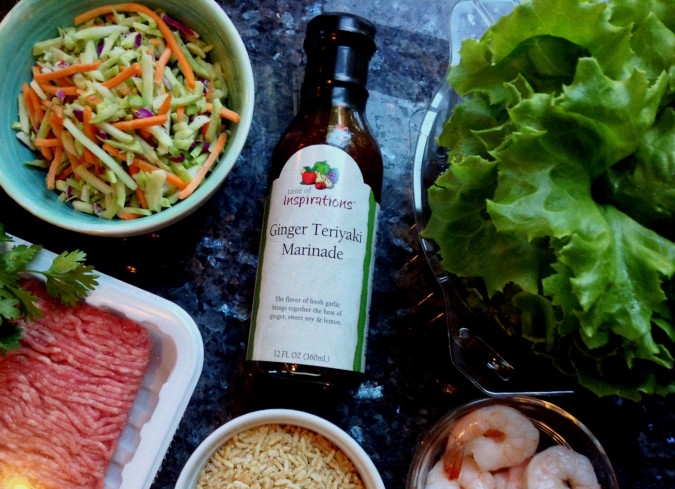 Ginger Teriyaki Pork and Shrimp Lettuce Wraps
Ingredients
2 cups cooked brown rice or quinoa
2 cups broccoli slaw
3 Tbsp. lime juice
2 Tbsp. finely chopped cilantro
1 tsp. sugar
1 tsp. ground black pepper
1 tsp. kosher salt
1/2 tsp. sriracha chili sauce, more to taste
1 lb. ground pork
12 cooked large shrimp, shells and tails removed, chopped
1/3 cup Taste of Inspirations Ginger Teriyaki Marinade
1 head Boston lettuce
Instructions
In a large bowl, combine the rice, broccoli slaw, lime juice, cilantro, sugar, black pepper, salt and sriracha. Set aside.
Add pork to a large nonstick skillet over medium-high heat, stirring and breaking it up as it cooks until no longer pink, about 8 minutes. Add shrimp and ginger teriyaki marinade. Stir until mixture is coated and shrimp is heated through.
Add the pork to the rice and stir well. Serve the filling family-style along with the lettuce.
Notes
Cook's Note: The rice or quinoa can be prepared ahead of time and refrigerated until needed.