Champagne Worthy Appetizers

There really is something special about New Year's Eve and it would not be a celebration without the pop of a champagne cork and some upscale appetizers. Bacon Wrapped Chicken Bites are perfect fare for New Year's Eve. These hors-d'oeuvres  come together quickly and can even be made-ahead of time and just heated through for serving. Most food pairs well with champagne, anything from fresh berries and vegetable crudite to smoked salmon and pâté. Crostini is ideal for passing around on New Year's Eve. Champagne also pairs well with sweets.
Which bubbly to choose? The right selection depends on your tastes and budget. True champagne, considered the gold standard, is made and bottled in Champagne, France and most bottles can be quite expensive. For better value, look to California sparkling wine, Spanish cava and Italian prosecco. Champagne is best served cold. To bring champagne to the proper temperature, allow the bottles to sit in ice water for about 30 minutes. If you do not have enough flute glasses, consider renting them. If you have never opened champagne before, here is a great how-to video.
Happy New Year!
Bacon Wrapped Chicken Bites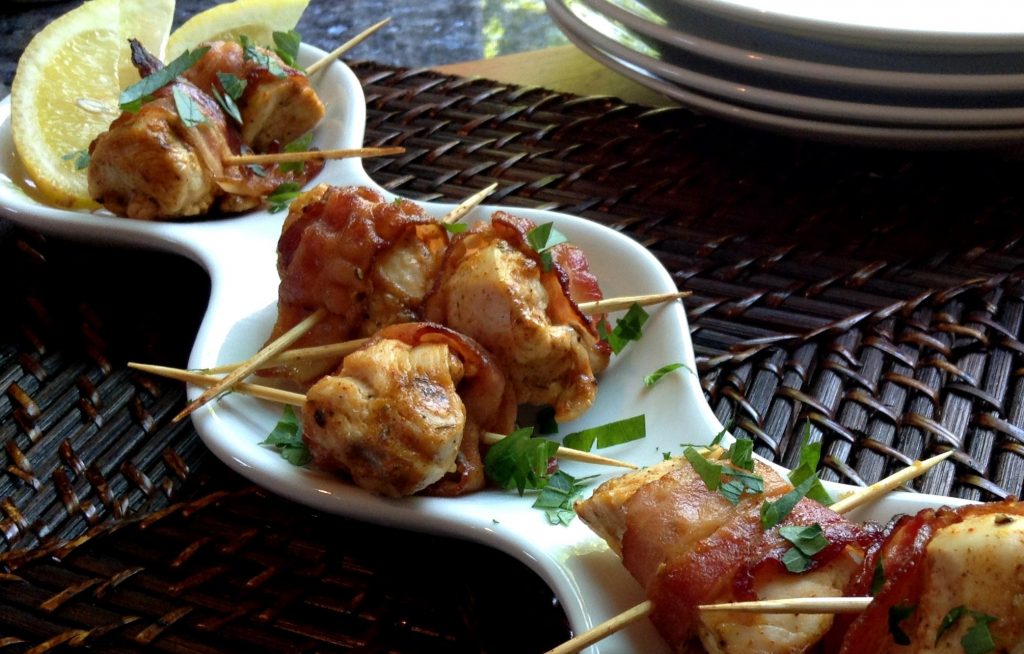 Bacon Wrapped Chicken Bites
Recipe Type
:
Appetizer, Poultry
Prep time:
Cook time:
Total time:
Ingredients
Cooking spray
3 Tbsp. S&F Lemon Dill Sauce
1 Tbsp. Dijon mustard
1/4 tsp. garlic powder
1/4 tsp. ground black pepper
1/4 tsp. paprika
1 3/4 lb. boneless, skinless chicken breast cut into 1 1/2-inch nuggets
1 (2 oz.) pkg. pre-cooked bacon
12 wooden food picks
Instructions
Preheat the oven to 375°F. Grease a baking sheet with cooking spray and set aside.
In a bowl, toss the S&F Lemon Dill Sauce, mustard, garlic powder, black pepper and paprika together until evenly blended. Add the chicken to the bowl and stir until it is evenly coated with the sauce.
Cut each piece of bacon in half. Wrap each piece of chicken in a piece of bacon, securing it with a food pick. You may have a few leftover pieces of bacon. You can make the recipe to this step and refrigerate the bacon-wrapped chicken pieces until you are ready to cook and serve them.
Place the bacon-wrapped chicken onto the baking sheet and cook for 15 – 18 minutes. The chicken should be cooked through and the bacon nicely crisped. These appetizer bites are an allergy-friendly alternative to bacon-wrapped scallops.bacon
A few more possibilities…
Classic Shrimp Cocktail