Celebrating 150 Years with Sam Mangino

It all began 150 years ago in a Portland, Maine – Schlotterbeck & Foss had its humble beginnings as a family-based apothecary business selling patented medicines and flavoring extracts. Today, we produce our small batch, artisan products with a team of 70 + people. As we celebrate this historic anniversary, we want to celebrate the people who make it happen.
Sam Mangino, our in-house chef and flavor master has worked at Schlotterbeck & Foss for 8 delicious years. When he cooks at home, Sam's pantry always includes these S & F products:  Garlic Teriyaki Chef Sauce, Honey Buffalo Chef Sauce, Carne Asada Chef Sauce, Balsamic Roasted Garlic and Onion Jam, Hot Pepper Butter and Pulled Pork Cooking Sauce.
What does Sam enjoy most about his culinary work at Schlotterbeck & Foss? "Watching people enjoy my food!!!" Sam is also quite excited about some new products coming out of the S & F kitchen. According to Sam, "Our S & F Meat Mix-ins ROCK the flavor of ground meats – Bold & Smoky BBQ, Balsamic Bacon & Onion, and Sriracha!!!  They will make any burger, meatloaf, meatball, taco filling, meat pie or homemade sausage taste like you are a Master Chef."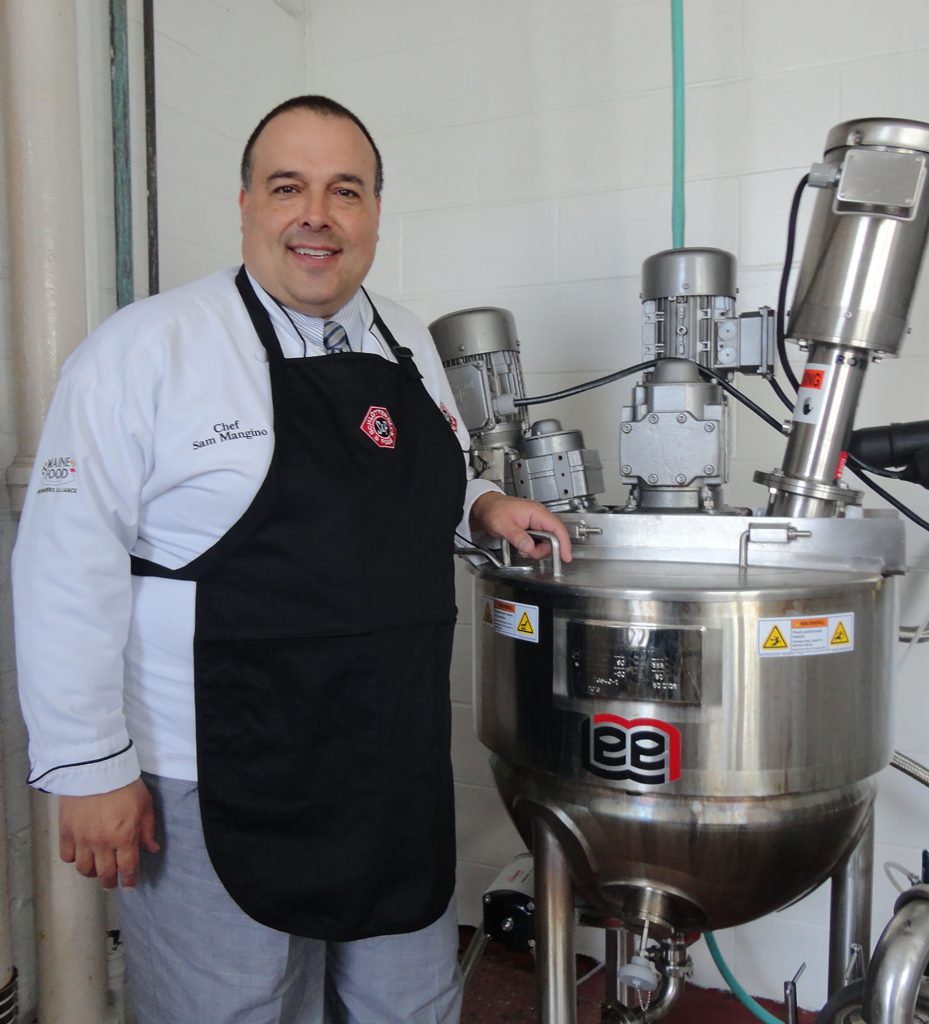 Chef Sammy's "Game Time" Bacon Jalapeno Bombs
Prep time:
Cook time:
Total time:
Ingredients
1 lb. 90% lean ground turkey
1 lb. turkey Italian sausage
1 egg, beaten
1 cup panko bread crumbs
1 cup shredded sharp cheddar cheese
½ cup crispy bacon pieces
½ cup S & F Balsamic Roasted Garlic & Onion Jam
½ cup 100% shredded Parmesan cheese
¼ cup finely chopped fresh jalapeno
¼ cup S & F Honey Buffalo sauce
¼ cup S & F Maple Bacon Chipotle BBQ sauce
2 Tbsp. finely chopped prepared garlic
1 Tbsp. ground black pepper
1 tsp. salt
Instructions
Preheat the oven to 400 degrees F. Grease two baking sheets with cooking spray.
Mix all of the ingredients together in a bowl and form into 32 meatballs in the shape of mini-footballs.
Bake for 25 minutes or until the internal temperature reaches 165 degrees F. According to Sam, "Serve the bombs with extra BBQ sauce.